Reading Time:
4
minutes
Reading Time:
4
minutes
Reading Time:
4
minutes
Reading Time:
4
minutes
Reading Time:
4
minutes
Curriculum vitae, resume, bio or simply a CV – a necessity for everyone on the job market. What should the ideal resume of a freelancer look like, and above all, how to write a great CV?
What should a freelancer's ideal CV look like? To answer that, we have prepared a detailed overview that you can follow. You can then build your own CV piece by piece like Lego.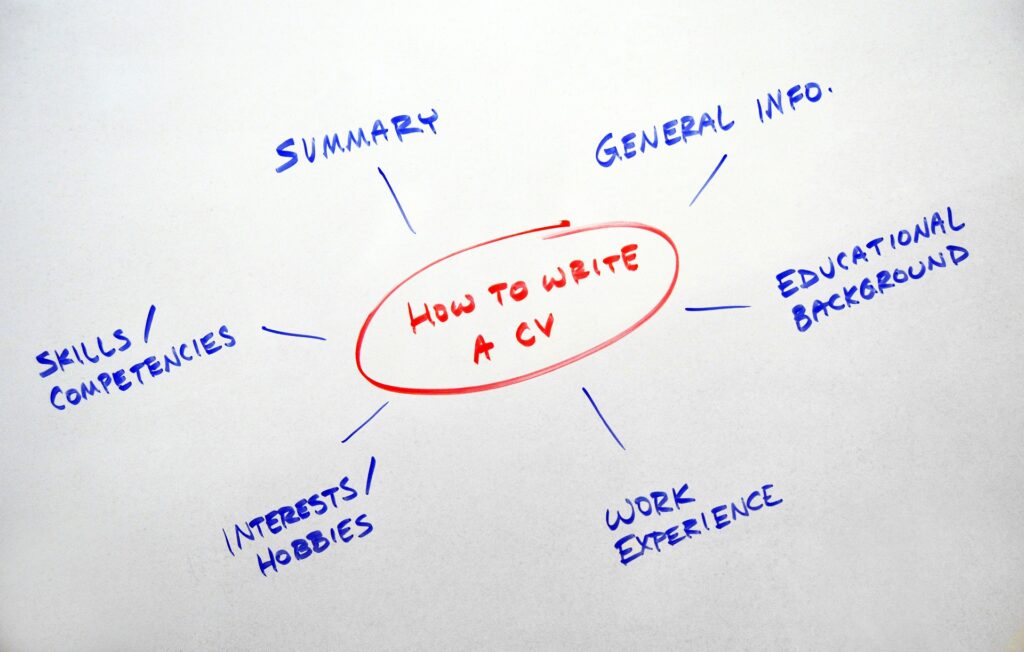 Form and structure of a CV
It is important to consider who will read your CV. The first "hands" laid on your CV will most likely be that of someone responsible for preliminary candidate selection, like a recruiter or a sourcing specialist. These people see dozens of different profiles each day, in which they look for key words (knowledge, experience, education…) required for a specific project. For this reason, it is better to have a structured CV and not one written like an essay (which nobody does these days, after all). A structured CV is ordered chronologically (ideally from the most recent experiences to the oldest), clear, easy to read and comprehensible.
A structured CV has certain rules enabling a quick orientation in it.
Personal details
Put your personal details in the header. This should include your name and contact details. For example, like this:
Name:
Surname:
Title:
Address:
Telephone number (alternatively a Skype ID)
Email address:
Webpage/LinkedIn profile:
You can also consider adding a photograph. This is by no means complimentary and if you decide to add a photo, there are some rules as well:
It should not be a snapshot from a holiday or a family gathering.
You should not be wearing sunglasses; your eyes must be visible.
It should be a portrait – taken from the shoulders, or the waist, up.
There should ideally be no distracting background or harsh light.
A CV photo should not include children or pets.
To put it simply, if you decide to add a photograph, it too will represent you. The person looking at your CV will link the information to your face. This can be an advantage as well as a disadvantage.
Work Experience and details of past projects
The most important thing is to emphasise your knowledge and project (work) experience. In this passage, you should describe the character of your previous work, what your main contribution to the company was and what skills you took away from that position. It should not be a lengthy essay but a concise and clear summary of the essence of the given project or position. It is good to use the field-specific terminology. This will be different for banking and telecommunications, for example.
You should include the following with every experience/project:
The name of the company
Location
The name of the position
Time period
Let's have a look at concrete projects to see what information about them should not be missing from a CV.
Know-how
This section should include the technology you are familiar with. List all the operating systems, databases, programming languages, web technologies, frameworks, and repository systems.
Education
This category should include information about your institutional education (courses and certificates are in a separate section). Always list your education in a descending order from the highest attained (you do not have to include your primary school). Include the name of the school or university, field of study and the degree obtained, or the information about (non)completion.
Certificates and courses
List all the certificates you have obtained, and courses attended. It is best to include the title of the course (or its content / focus), where and when it was held and who organized / led the course. If you got a certificate at the end of a course, list its title as well.
Language Skills
Next are the language skills and their level. The easiest way is to indicate the language ability using the Common European Framework of Reference for Languages (A1/A2/B1/B2/C1/C2).
Interests
Your interests can include volunteer work and societal engagement. Also list all the activities that you enjoy and that describe your character. It is not necessary to include this part, but it can be viewed as a plus by companies that pride themselves on company culture and chose colleagues partly according to personal sympathies.
References
In the references section, provide the contact details of your previous clients (employers), direct superiors, colleagues from projects… The people should know that you list them in your CV as a reference. You can tell them that you are applying for a new role to make sure they are ready to provide you with a reference (and that it is positive).
What to avoid when writing a CV
Be careful about gap periods. Those are times in between projects/positions which should be always accounted for.
For example:
08/2018-11/2019 | travelling the world, maternity / parental leave.
10-11/2020 | sabbatical
Make sure there are no typos and grammatical errors in your CV. It is also important to unify the graphics and visual look so that your CV is easy to read. A Comic Sans CV full of errors with a picture from your graduation ball will not be to your benefit.
Give only true information in your CV. Liars will always get caught and this applies doubly to CVs.
What should a CV look like?
You will certainly find many examples and possible formats for CVs on the internet. The choice is yours. Always bear in mind that a CV must be clear and functional. The visuals should reflect your field or area of interest. Sometimes, creativity can be detrimental. Give sufficient space to the content itself. If you are responding to a project of a foreign client or if an active knowledge of a foreign language is one of the requirements, it is advisable to write the CV in that language. Similarly, it is advisable to adjust your CV to the position you are applying for. Irrelevant information can be omitted.
Writing a good CV takes time. There is an ample return on this investment, however, and it is one of the important steps on your way to a great IT project.
27 998
Titans that have
joined us
630
Clients that have
joined us
399 596
Succcessfully supplied
man-days