Reading Time:
3
minutes
Reading Time:
3
minutes
Reading Time:
3
minutes
Reading Time:
3
minutes
Reading Time:
3
minutes
Today marks our first month under the new brand TITANS but the journey is still at the beginning. Six months ago, we publicly announced the change. And together with the right partners, TITANS freelancers from Slovakia, we got working.  
The decision had been made, the reasons clearly defined, and feasibility checked. Nobody of us was 100% sure, however, what reality will bring.
Rebranding in general is a great challenge – for the company's management, especially the owners, as well as the internal team. To motivate people who love the current brand to accept a change, put their worries aside and appreciate the benefits of a rebrand is a job for the long haul.
We made good use of our half-term kick off, celebrating record sales and introducing a for a long-time secret plan for change. And the reaction? Sometimes excited, sometimes melancholy, at other times tentative. Concerns about innovation appeared not only in our marketing team but also in sales and recruitment. Could we lose our long-built reputation? How hard will it be to build our brand from scratch again? What will our communication look like under the new umbrella? It transpired, however, that together our team can achieve anything, even tackling fears.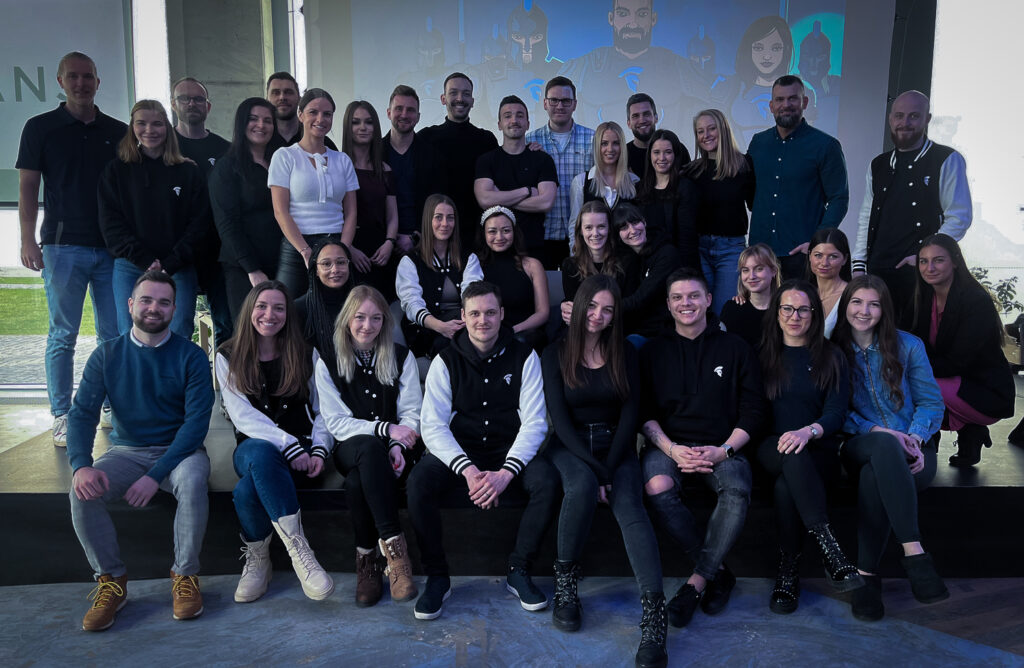 And so our journey began
A typical marketer would make a checklist:
Brand name – check
Company name – check
Domain…a bit of a pickle but nothing our managing director could not handle.
Other? Let's have a look…
Positioninig
A good question…In Slovakia, the TITANS freelancers brand had been very popular for ten years. Nobody had to explain its origin, mission, vision…The company's power was deeply rooted here.
In the Czech Republic, we ran into issues. TITANS? Why? What does mythology have to do with IT? Where do the values of the companies intersect? And how will it all reflect on our customer approach? Goal number one was clear: to put positioning on paper. Today, we must allow that it was the best possible course of action. It is thanks to never-ending discussions that we now know with certainty why we stand behind the TITANS brand and why we fly the flag for it – it is because of the values of the Titans, characterized by STRENGHT, COURAGE and PERSEVERENCE.
We want to bring great experts to our clients and supply our contractors with attractive projects. The benefit? We did not receive a positioning statement in a 200-page document from a holding. We were able get thoroughly acquainted with our positioning and make sure it was in agreement with our values.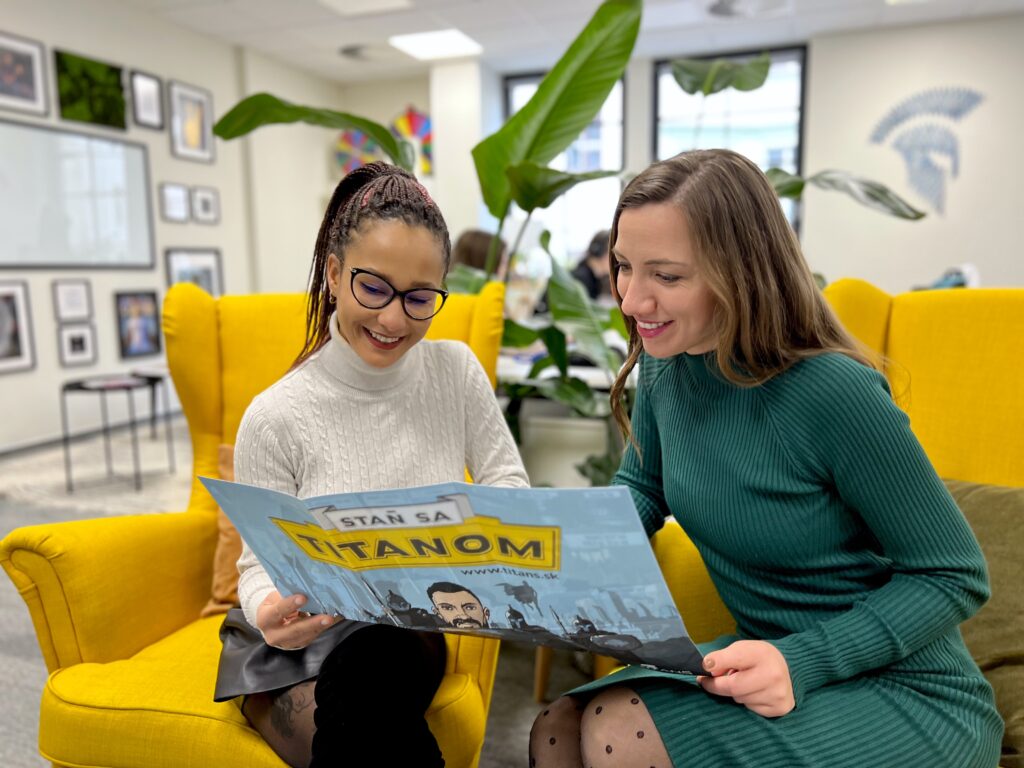 Corporate identity
The flight recorder of brand managers and designers. Do you have one? Can we see it? The answer to the first question is affirmative. As to the second, we honestly say, "It's in preparation." Why, you ask? Like the brand itself, our marketing developed spontaneously, sometimes headlong but all the more enthusiastically.
The story of the Titans began ten years ago but lately, the brand began developing a new visual image. Inspired by the popularity of Marvell stories, we adopted the story of the Titans from comics. We are not saying we are unique in this. In our trade we are one of the few living our own story according to comic book heroes, we know it for sure. We launch into the fight with bureaucracy, ordinariness, and routine. So that is a new visual to our work, which you will be seeing more often.
It is not perfect, but it is ours – it is what we are. We love it and believe you will fall in love with it as well. There is still a long way before we perfect all the details of our rebrand. Not to speak of our promotional mix and web (but that will make for its own blog)
Today, we proudly announce to the world: We are the TITANS! Join us.
26 297
Titans that have
joined us
603
Clients that have
joined us
374 582
Succcessfully supplied
man-days