Reading Time:
4
minutes
Reading Time:
4
minutes
Reading Time:
4
minutes
Reading Time:
4
minutes
Reading Time:
4
minutes
Outsourcing of IT services is becoming an increasingly more common solution for many companies and their digital projects. Has your company decided to outsource, but you are not sure what the whole process will look like? You can read more about outsourcing in our previous article. 
A question off the start: Why?
he best qualified of TITANS CZ and TITANS freelancers put their heads together to answer this query:
Before starting the outsourcing process, you should have an answer to the question: Why you want to outsource given IT functions now? The reasons can be various:
Saving time when a relevant specialist is not available in your company.
The role is needed only for the specified project.
The position is not defined in your budget.
Cost efficiency should not be the only reason to outsource IT to a contractor. Your expectations should be aimed at better availability and quality of services and at the company being able to focus on its core activities.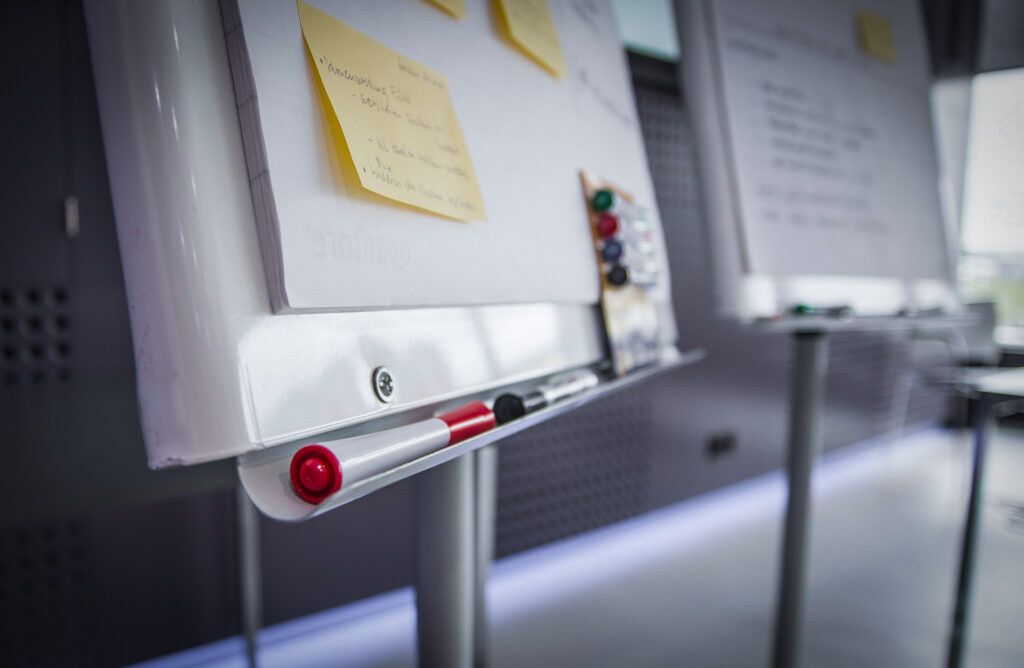 When deciding what form of outsourcing to use, you must remember that hiring IT professionals through a firm offering complex IT outsourcing solutions. And it is incomparable with hiring freelancers directly. Outsourcing companies can guarantee the quality of services much better. And when it comes to security and reliability, they represent the stability necessary for key projects.
1. Defining outsourcing needs
For an effective outsourcing of IT functions in your company, it is necessary to define requirements for the tendering of the supplier and IT professionals. Which will also serve for evaluation of achieved goals. The requirements should include as detailed a description as possible of the outsourced activities. And also the demands on the tendered role within the project. (For example the ability to work with certain software or the knowledge of a specific language). If your demands are not sufficiently detailed, the supplier may offer profiles that will not suit your needs and you may lose time on useless job interviews. A detailed specification of the specialist you need in your team is thus a key thing. Another important factor is setting a budget for the entire area you are going to outsource.
Among the factors affecting price are:
the number of functions to outsource
the length of a project
the type of outsourcing (on-site or off-site)
seniority, i.e. the recruited IT professional's experience in the field
At the same time, however, the cost of an employee's work equipment (laptop, mobile phone, etc.) as well as wage or meals costs are eliminated when outsourcing.
2. Choosing a supplier
f you have defined the services that will be outsourced, you can start selecting a suitable supplier and candidates for the position/role you are looking to fill. The selection process can affect various departments in your company. If more than one department is involved in selecting a supplier or assessing the suitability of candidates, a plan for the selection process should be drawn up. Various criteria must be considered when selecting a suitable supplier. The decisive criteria will be different for each company.
A decisive criterion can be:
speed of supply
price
quality
references
Try not to make your choice according to only one criterion, but always consider several at once. As with any outsourcing, choosing a reliable partner is essential. Although every company should be aware that the cheapest supplier is not always the best one as the company might ultimately end up paying much more for the supply service.
In case you need a professional with a narrowly profiled or rarely available specialism, an important criterion may also be whether the selected supplier has a database of the necessary specialists for your project.
3. Signing a framework agreement
It is common practice to sign a framework agreement with the selected supplier which should apart from the general framework of rights and obligations of both contracting parties also include the transfer of rights related to copyright (for example granting a software development licence) and all the specific requirements related to the provision of the service. The contract may also contain a confidentiality agreement.
4. Selecting specialists
If you have selected a supplier, your next task will be to choose specialists for your team who will best suit your requirements and who will be a contribution to your project. For many companies, the most difficult task when choosing the right specialist is to find out the fundamental values and the real motivation of a candidate. It is easy to verify qualifications and experience but to find out the motivation, values and personal integrity of a candidate, an entrepreneur must also know a little psychology and have the ability to read nonverbal communication.
A good supplier should ensure the participation of HR experts in the interviews with candidates and carry out a pre-selection of suitable candidates for you. Thus you can save a lot of time spent studying CVs or meeting candidates who do not have the necessary experience or do not meet the requirements of your project.
5. The order
After finding the right IT specialists for your team, it is necessary to issue an order to the supplier whereby the professionals will start working for your company on the agreed date.
6. Monthly invoicing
During the project, monthly invoicing takes place based on the scope of services provided by each specialist. You will always pay only for the time actually delivered on an hourly basis. Therefore, you do not pay for employee downtime that often occurs during projects.
In addition, our company monitors the quality of services provided on a monthly or quarterly basis by checking the satisfaction of our customers. If we discover problem areas during the check, we will propose a suitable solution for their elimination to ensure quality and effective cooperation.
If you are interested in outsourcing and want to know all its advantages and disadvantages, you can continue by reading this article. And if you would like to discuss the possibilities of outsourcing in person, write to us or give us a call.
26 297
Titans that have
joined us
603
Clients that have
joined us
374 582
Succcessfully supplied
man-days