Reading Time:
4
minutes
Reading Time:
4
minutes
Reading Time:
4
minutes
Reading Time:
4
minutes
Reading Time:
4
minutes
We have stepped into 2023 with fresh energy, enthusiasm and motivation. Mostly thanks to the strength of the TITANS freelancers which is now backing us. 2022 was the year of preparation and rebranding so that we could enter the new year in a new coat.
Many days have passed since the foundation of BRIDGEWATER and many changes have taken place. For example, it is almost impossible to believe that we have changed our "home ground" each year! We are still playing the same game, however, even though in different kits, higher league and finally also at our own premises. And after all the milestones of the past five years up to the connection of the brands, we would now like to take you through it. Sit yourself down comfortably, the tour is about to start.
2017 – And then there were six
It all starts in October of this year. We are founded by Jakub Konečný and Milan Procházka. We are called BridgeWaterBlu and there is exactly six of us. Together with the birth of the company, our company values are born and the code of conduct not only towards potential clients and specialists but also towards all employees and colleagues. And by the first month, we have placed the first freelancer to the T-Mobile company.
In 2018, we're a little squashed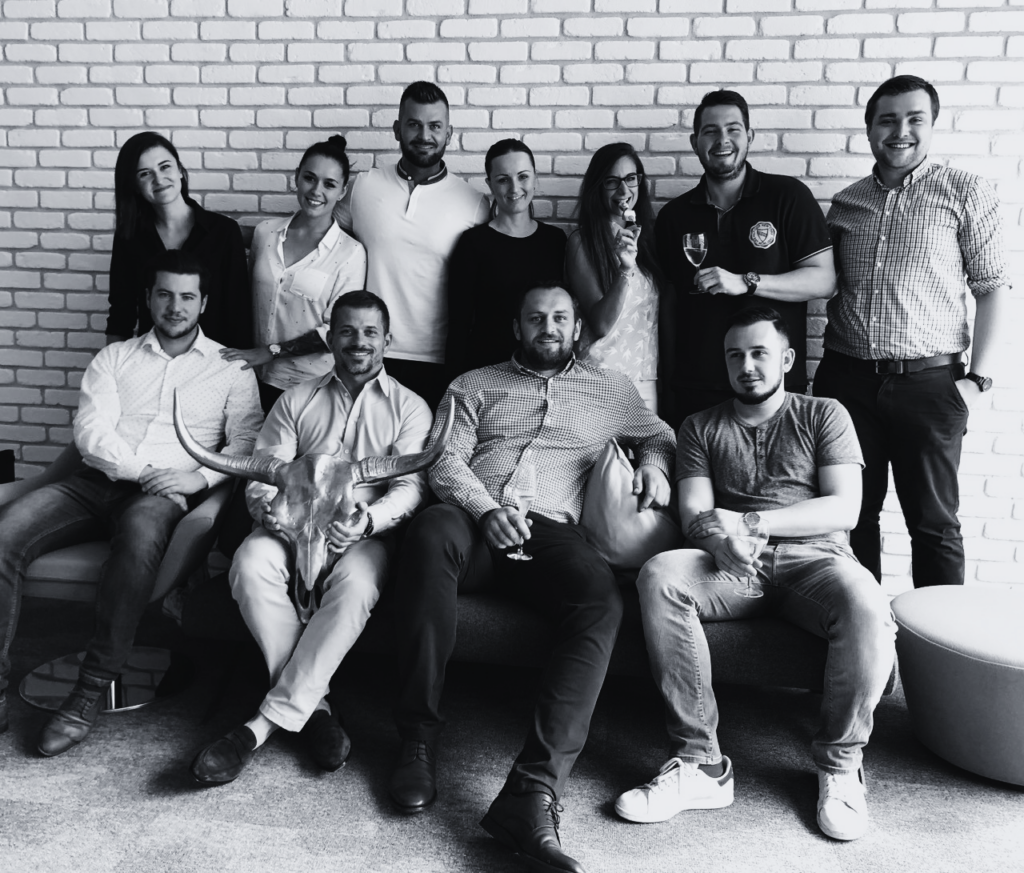 …and so we're moving. There's twice as many of us and we need more space. We're moving to a larger office in Corso Karlin. We have been in operation for a year and what a ride it has been, taking us up but also down. We have placed our first tens of freelancers and reached a gross income of almost CZK 50 million, which we consider a great success after a year in business. Even so, this milestone is marked by financial loss in our P&L. But we're not giving up! We have thought our options and strategies through and come back to a six-member team.
2019 Building and trimming (the name, not hedges)
A good chunk of work awaits us in the following months! 2019 is mainly about further development of our company culture and the values that will be our pillars even in the future. They are built on strong foundations. On top of that we're managing our daily business. It's time to make a solid financial gain! After all, we are a business with the highest ambitions.
A significant investment has been made into strengthening the company's inner culture and implementing a concept of values (which has definitely paid off). This is by far not the end of the development. The next thing in line is the foundation of Bridgewater Academy – an internal educational platform focusing on deep understanding of the world of technology and its connection to the recruitment business.
And what about the trimming? It affected our name. From this year on, we are called BRIDGEWATER ltd.
Finally, we are moving once more. This time with a good feeling because we are approaching 100 million in sales. There's more of us again and so we celebrate Christmas in a new co-working space WeWork in Prague 1.
2020 won't get us
Key members strengthen our team and we use the sinister covid quiet to make plans. We are working on the Bridgewater strategy for the next years. We grow a little even during the pandemic, and we can lean on our firm pillar – our company culture that helps us get through this hellish time. We don't celebrate Christmas together, but we finish the year on a high note with sales approaching CZK 100 million, and we're already looking forward to 2021. Hopefully it will (not) be more positive!
Successful 2021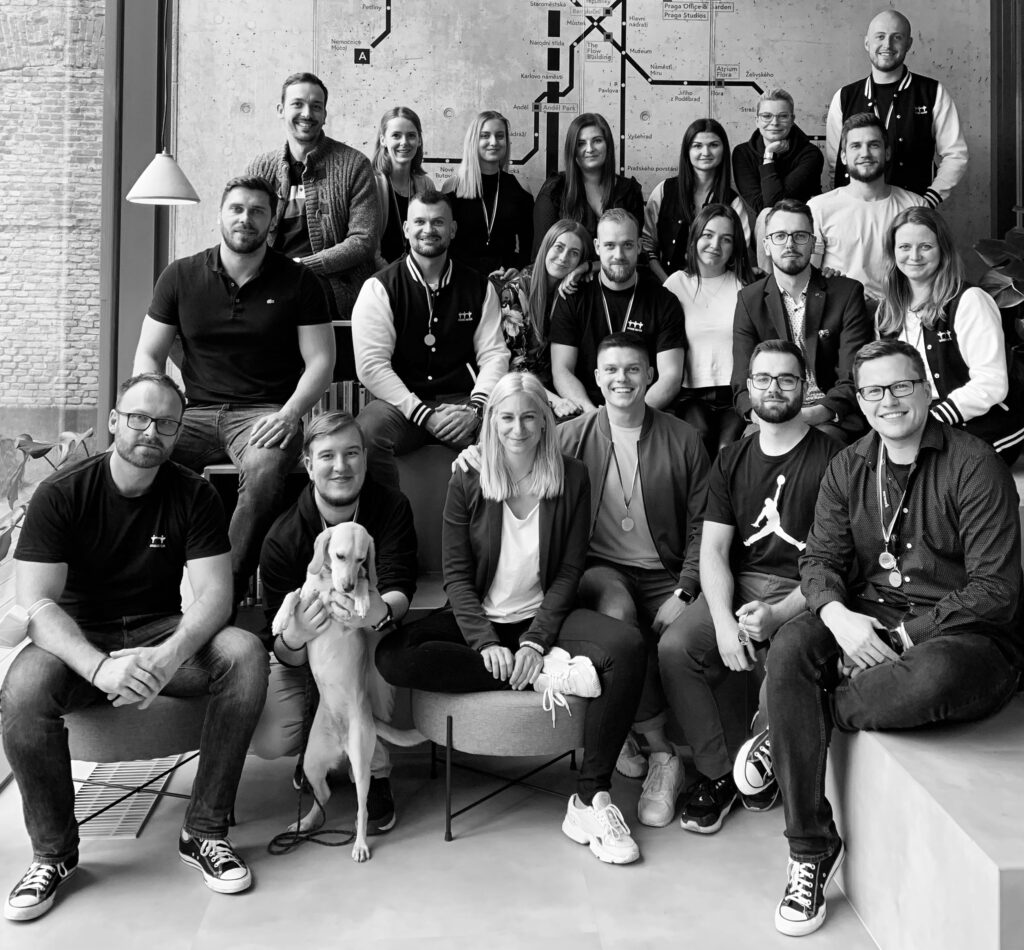 New members, new achievements. There is 28 of us already and we're gearing up. And once again, we're moving. This time into the premises of Scott.Weber in Karlín. In the middle of the year, we are contacted by the Slovak company TITANS freelancers. If we as a company could, we would have goosebumps in expectation of great news. TITANS freelancers are number one in the IT professionals outsourcing market and they want to buy a share in BRIDGEWATER. Together, we can start planning on conquering the European market. The end of the year is really something. Before Christmas, the TITANS freelancers buy 70% of Martin Procházka's share. Towards the end of 2021, our sales have skyrocketed to CZK 174 million, confirming our rocket growth!
Nesting and growing up in 2022
We have confirmed that joining up with TITANS freelancers was worth it and we strengthen strategic partnerships. We are more efficient and grow to 40 employees. This means another move. This time into our own space, to Jungmannova 24 in Prague 1, where we can build a nest and get ready for a new era of our company. This year, we have done great on the "half-term exams," achieving sales of CZK 120 million. The joining of Bridgewater and TITANS brands has been fruitful and we take the decision to merge under one brand from 2023 – TITANS. The end of the year balance sheet shows annual sales of almost CZK 274 million. This, among else, means that we have grown annually by tens of percent in all financial indicators. For this year, we can congratulate ourselves.
2023 and exciting beginnings
From January 1st, we are officially Titans! As TITANS, we carry on with our mission on the Czech market and we are diving into the European one with a great deal of motivation and vision. Thanks to the merger of brands, we have new possibilities and greater power. We have put on a new coat but underneath we are the same – the same values, the same company culture, the same people. Just stronger.
And we cannot wait for new challenges!
26 297
Titans that have
joined us
603
Clients that have
joined us
374 582
Succcessfully supplied
man-days